Integrated Therapy
What is Integrated Therapy?
Integrated therapy has been defined as holistic, collaborative, child-centred approach to educational and therapeutic support. The key principle is that our therapists share their professional knowledge, experience and expertise whilst working in collaboration with the education team, and students and their families to support accessing the curriculum, developing autonomy and functional skills, and enabling social participation in a fully inclusive learning environment.
"All children and young people are entitled to appropriate education, one that is appropriate to their needs and enables them to achieve their best and become confident individuals living fulfilling lives." - SEND Code of Practice, 2015
Our Integrated Therapy Team is composed of: the Therapy Lead, an Occupational Therapist, a Speech and Language Therapist, an Occupational Therapy Assistant, a Speech and Language Therapy Assistant and a Physical Activity Instructor.
Our 3-Tiered Approach
In order to achieve our students' outcomes, the Integrated Therapy Team deliver a 3-tiered approach. Information about each tier can be found below.
Tier 1 - Universal - Inclusive SchoolTier 2 - Targeted - Inclusive ClassroomTier 3 - Specialist - Young person in context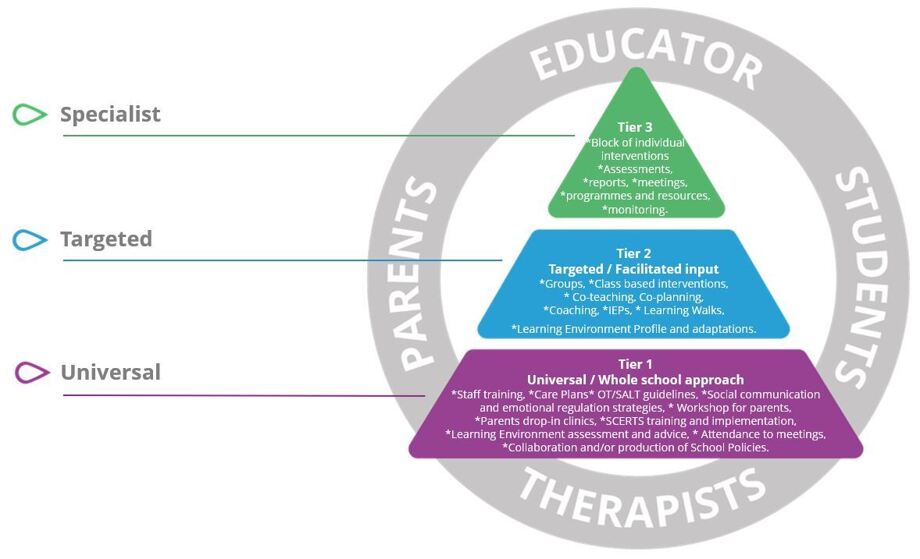 SCERTS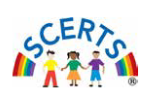 At Parkwood Hall, the SCERTS model (Social Communication, Emotional Regulation and Transactional Support) is used as an additional framework for assessment.
One of the unique characteristics of this model is recognition of the interdependence of various aspects of development in children which are related to social communication, emotional regulation and how these two skills are supported and facilitated by the social context and partners.
Social Communication: Social communication and language abilities are essential for learning in educational settings and everyday activities. They have wider effects on the child's social and cognitive understanding of daily experiences and sense of competence and self-esteem
Emotional Regulation: This is an essential and core underlying capacity that supports a child's ability for learning. This includes the ability to attend a task, information in an activity or setting, engagement with others, processing verbal and nonverbal information, and participation in everyday activities among others. Skills assessed and developed in.
Mutual regulation: Seek assistance and/or respond to others' attempts to provide support for emotional regulation
Self-regulation: remain organised and well-regulated in the face of potentially stressful circumstances
Recovery from extreme dysregulation e.g. shutdown, through mutual and/or self-regulatory strategies.
Transactional Support: When learning supports are used, the goal is for the child to actively use such supports in meaningful ways that best match that particular child's abilities, interests, and needs.
The domains of Social Communication and Emotional Regulation are organised developmentally so that foundation skills build from stage to stage.
Therapy Interventions/ Approaches
Music Therapy
At Parkwood Hall, we employ a HCPC registered Music Therapist, delivering a range of individual sessions, small groups, whole class sessions and bands according to the various needs of students. We have a well-equipped music room with a wide variety of accessible instruments.
Music Therapy is a targeted intervention to help students with communication and engagement, as well as an an integrated part of the school's wider, lively and active musical life. It is active joint music making – engaging, fun, creative, expressive and sociable, emphasising the inviting, communicative, organisational and co-operative aspects of music making.
Within Music Therapy, all students are musicians, with the potential to develop their musical character, interests and involvement.